-----------------------------------------------------------------------------------------------------------------------
[Merħba - Welcome] [Xogħol tal-Arti - Art Work] [Arti Oħra - Other Works] [Varji - Various] [Wirjiet - Exhibitions] [Mosaico] [Bijografija - Biography]
-----------------------------------------------------------------------------------------------------------------------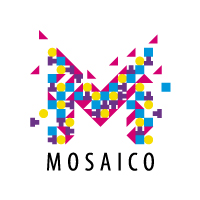 "Mosaico" hu grupp li jiġbor fih artisti ta' etajiet u espressjonijiet artistiċi differenti, flimkien ma oħrajn li għandhom għal qalbhom l-arti u l-kultura. Involuti f'dan il-grupp hemm pitturi, skulturi, designers, arkitetti, ċeramisti, mużiċisti, kantanti, poeti, ġurnalisti, gwidi, dawk li huma fil-kultura tal-ikel, ħjata u ħafna oħrajn. Il-motiv komuni hu li l-arti jgħamluha għas-servizz tal-umanita', u li permezz ta' l-arti jixtiequ jwasslu messaġġ li jkun ta' benefiċċju għal oħrajn. Glenn u l-mara Adriana jagħmlu parti minn dan il-grupp ta' artisti
"Mosaico" is a group encompassing artists of different ages and artistic expressions, along with others who have art and culture as their passion. Involved in this group there are painters, sculptures, designers, architects, ceramists, musicians, singers, poets, journalists, guides, those who are in the culture of food, sewing and many others. The common ground is that the arts make it to the service of humanity, and that through art lead the message to be of benefit to others. Glenn and his wife Adriana, make part in this group of artists.
L-Arti tal-Imħabba - 2014
Green Rewolution - Capotavola Restaurant - 2012
Tmiem Sena tal-Volontarjat - 2011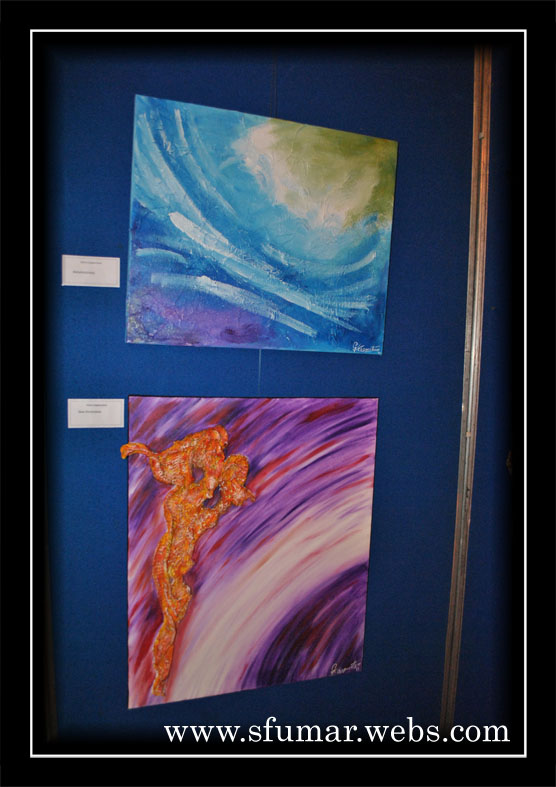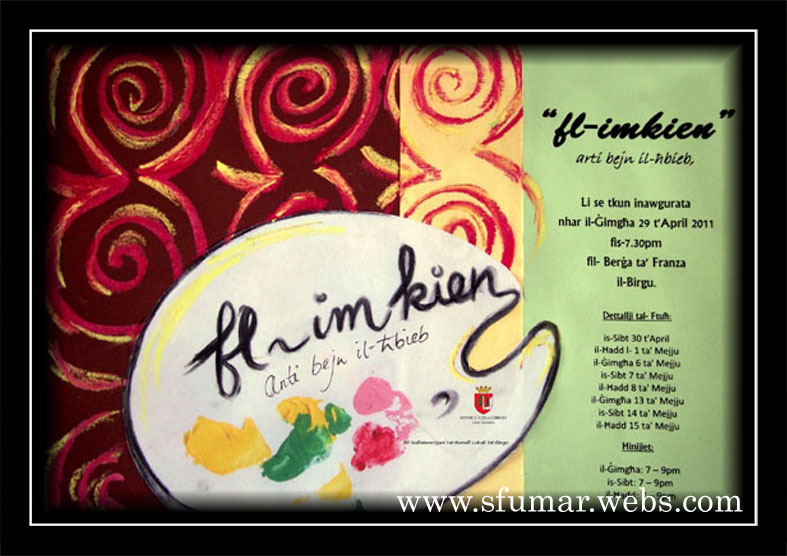 Arti bejn il-Ħbieb
Art between Friends
L-ewwel esebizzjoni tal-grupp Mosaico. Din l-esebizzjoni saret bejn id-29 t'April sal-15 ta' Mejju 2011 u kienet fil-Berġa ta' Franza, il-Birgu.
The First Art exhibition of the Mosaico group. It was held in the Auberge de France in Vittoriosa between 29 th April and 15th May 2011.
-----------------------------------------------------------------------------------------------------------------------
[Merħba - Welcome] [Xogħol tal-Arti - Art Work] [Arti Oħra - Other Works] [Varji - Various] [Wirjiet - Exhibitions] [Mosaico] [Bijografija - Biography]
-----------------------------------------------------------------------------------------------------------------------